Risk Management Services
Velimor is pleased to offer an extended range of Risk Management Services to complement the work we already carry out on your behalf.
We now have specialists in the BowTie Analysis of all the Hazards (MAH's) and Process Risks that your business maybe faced with on a daily basis. In many parts of the world this process is mandatory to gain an operational licences specifically in the Hydro Carbon Markets in the Middle East. This methodology of Risk Management and BowTie Analysis is strongly recommended for industrial clients and the methodology is widely recognized and documented as being the most logical and practical methodology for demonstrating the management of risks.
A Risk Management System is a structured and documented process for managing risks within a company, to assure the protection of people, assets, business reputation and for the protection of the environment.
A company Management System will often follow a common structure, starting with the business principles, followed by the progressive and continuous development of risk identification and subsequent mitigation. The manner and means by which risk is controlled is delivered through people and procedures which are also identified.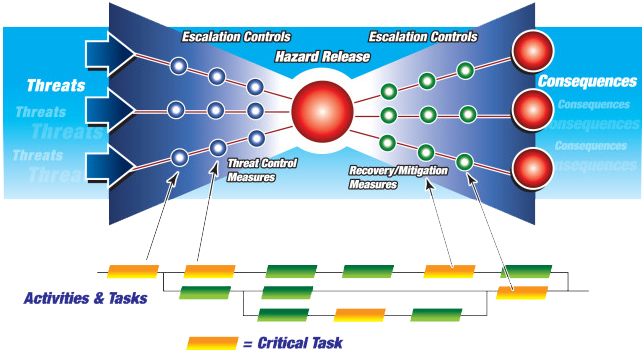 In its simplest sense the BowTie can just be a pictorial relationship of the hazards that can threaten the business through to the identification of how these hazards can be realized and what consequences may occur as a result. The controlling measures are also shown.
Subject to the nature of the BowTie tool used and processes by which information is distilled or collected, the Management System representation can be much more thorough, and could include:-
Assigning actual levels of risk via a corporate risk matrix
Developing 'Critical Tasks' which serve to illustrate how a control will be managed.
The document management system and linking of the relevant documents to the controls.
Identification and assignment of competent personnel to the Critical Tasks
Monitoring the performance of the controls via effective ratings
Capturing shortfalls, assigning and tracking actions
It is through the linking of Critical Tasks to controlling measures that the BowTie demonstrates the implementation of a Management System in managing the risk associated with hazards.
Each controlling measure should have at least one supporting task, to ensure that the integrity of each control can be maintained. The Critical Tasks are required to be performed, undertaken or executed by responsible and competent persons.
The purpose of the BowTie is to be a dynamic reflection of the Management System which through its clarity can be readily contributed to and understood at all levels in an organization. For those industries which are regulated, the BowTie is a clear statement that a business is serious about understanding and managing its risk profile.
The BowTie process is an extremely attractive presentation tool and there can be numerous pre-defined reports which can be automatically generated. The ability to query the database in this way adds increased flexibility.
In summary, the BowTie process can be used for a number of applications:
Supports management of major hazards
Unlocks relationships between hazards, controls and taskss
Bow-Tie diagram summarises hazard and effects analysiss
Used for hazard awareness trainings
Preparation of emergency exercisess
Hazard gap analysiss
Incident investigations
Input into operating procedures, job dVelimorriptions, annual tasks and targets, defining individual roles & responsibilities, etc.s
Possible linkage to other forms of analysis eg. Layer of Protection Analysiss
Capture shortfalls and use to track remedial actionss
Audit checklists/planning – e.g. Critical Tasks can be used as the basis for audit checklistss