Other Consultancy Services
Dropped Object Analysis
Velimor provide Dropped Object Analysis services to complement other risk assessment services on offer.
Dropped objects are significant initiators of incidents in many industries and are substantial contributors to the total risk for offshore and onshore facilities.
The consequences of a falling object include:
Personal injury/death
Structural damage
Damage to equipment
Release of hydrocarbons/fire
Velimor's Dropped Object Analysis consultants utilize a mathematical model that compares the mass of the dropped object with the height from which it falls to determine the force of impact and therefore categorize the damage caused.
Benefits include:
Identification of risks
Identification of high hazard zones
Determination of required protection
Asset Performance Management
Velimor is pleased to offer Asset Performance Management (APM) services to complement the range of Risk Management and risk assessment services on offer.
Velimor's specialist consultants utilise a process based upon the DMAIC methodology from Six Sigma
Define
Measure
Analyse
Improve
Control
The APM process incorporates a range of techniques to maximize effectiveness and therefore ensure high reliability.

Asset Perfomance Management (DMAIC Methodology)
A full APM program can include:
Reliability Gap Analysis
Life Data Analysis
Degradation Analysis
Root Cause Analysis
Recurrent Event Analysis
Maintenance Period Optimization
Definition of Key Performance Indicators (KPIs)
Evacuation, Escape and Rescue Analysis
Velimor can provide Evacuation, Escape & Rescue (EER) Analysis services to complement other risk assessment services on offer.
Determining safe and effective means of evacuation, escape or rescue is a critical part of design to minimize risk to an installation..
Velimor's expert Evacuation, Escape and Rescue consultants use a specialized method to determine EER requirements for a range of vessels and installations including:
Pipelay vessels
Accommodation units
Fixed Platforms
Offshore construction vessels
A full Evacuation, Escape and Rescue Analysis will typically cover
Alarm and detection
Access to muster points
Temporary Refuge
Means of escape/evacuation
PPE and rescue requirements
Identification of key potential accidents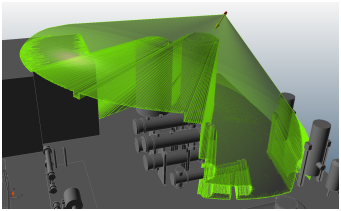 Fire & Gas Mapping
Fire and Gas Mapping
Velimor is pleased to offer Fire & Gas Mapping services in addition to other risk assessment services on offer.
Optimization of Fire and Gas detector placement is critical to ensure maximum coverage while minimizing the number of detectors used and reducing associated costs.
Velimor's Fire and Gas Mapping consultants utilize specialized software to conduct 3-dimensional analysis of your site to determine the optimum location and orientation for detectors, in order to achieve compliance with:
BS EN ISO 13702
UKOOA Guidelines
Benefits:
Identification of low or no coverage areas
Optimised placement of detectors, including optimum orientation
Identification of hazards and mitigation of risks
Compliance with international standards
Building Risk Assessment
Velimor is pleased to offer Building Risk Assessments (BRA) services to complement existing risk assessments services on offer.
Assessing risk to buildings on-site is an important aspect to any in-depth risk assessment. The location or design of an occupied building should be considered to minimize the risk to personnel and assets.
Velimor's Building Risk Assessment consultants utilize a software-based industry-approved method to identify risks, model consequences and propose mitigation measures where necessary.
A full BRA provides design inputs and decision support during the during project design phase.
This 3-stage assessment determines:
Which buildings are at risk in terms of occupancy and functionality
The hazards and consequences to which site buildings are exposed:

Explosion
Toxic
Flammable Cloud
Fire

Quantified risks to building occupants
Any further mitigation measures required