Functional Safety Management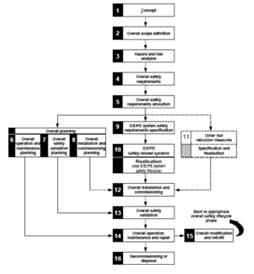 Overall Safety Lifecycle for IEC 61508
Velimor is able to provide Functional Safety Management (FSM) assessments to international standards such as IEC 61508, IEC 61511 and IEC 62061 to demonstrate that the management of design activities and system implementation is appropriate and that there is adequate competence for carrying out each task.
What is Functional Safety Management?
Functional Safety Management defines all activities required during the Functional Safety Lifecycle phases of a product / process, which is necessary in achieving the required level of Functional Safety. Functional Safety Management is specific to both people, departments and organisations that are responsible for each Safety Lifecycle phase / activity within each phase.
Fundamental to IEC 61511 and the prevention of systematic failures is the Functional Safety Lifecycle. The objective of the Functional Safety Lifecycle is to define the various phases from concept to decommissioning of a Safety Instrumented System (SIS). When the Safety Lifecycle is applied, each phase should be documented to demonstrate all phases on the Functional Safety Lifecycle has been clearly defined and the appropriate requirements realized.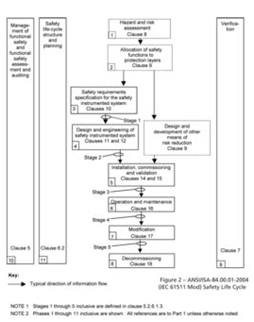 Overall Safety Lifecycle for IEC 61511
Functional Safety Management Consultants
Velimor's Functional Safety Management Consultants are able to setup Functional Safety Management Systems and undertake third party Functional Safety Audits on existing procedures and techniques for compliance to the recognized safety standards, including IEC 61508, IEC 61511 and IEC 62061.
Velimor can provide:
A robust Functional Safety Assessment or Functional Safety Management Plan (FSMP) to be conducted, allowing for confidence in the reduction of systematic failures
Guidance on the required level of functional safety to be achieved and maintained, ensuring the personnel are not exposed to unnecessary risk
Functional Safety Assessments based on the appropriate clauses of IEC 61511, IEC 61508 and IEC 62061
Functional Safety Gap Analyses, highlighting any gaps that need to be filled in and filling these gaps by adapting the current Functional Safety Management procedures in place
Development of new Functional Safety Management procedures if required, such as a FSMP, Safety Requirement Specification (SRS), Proof Test Procedures as well as training of personnel in areas such as SIL Determination, SIL Verification and an introduction to IEC 61508 and IEC 61511